ICTs for Water Security 2015
ICTs for Water Security 2015

Course dates: July 6-10, 2015
Venue: Central European University, Budapest, Hungary
Workshop Information
Thirty-three water practitioners, academics, and decision-makers from 20 countries including Iran, Jamaica, Nigeria, Egypt, Uzbekistan, Nepal, and beyond convened at Central European University (CEU) in Budapest for the ISEPEI "Making Information Talk and Technologies Work for Water Security" workshop from July 6-10. Run in cooperation with the United Nations Office for Outer Space Affairs (UNOOSA) and with support from the Abu Dhabi Global Environmental Data Initiative (AGEDI), through the Global Universities Partnership for Environment and Sustainability (GUPES) Project, this workshop featured faculty from leading UN agencies, global environmental institutions, and the ICT industry.
Viktor Lagutov (CEU), Mahesh Pradhan (UNEP), and Lorant Czaran (UNOOSA) opened the workshop, highlighting the importance of data for both improved decision-making and for the achievement of the SDGs (sustainable development goals), both main themes of the Eye on Earth initiative. The workshop featured a combination of lectures and hands-on interactive sessions, giving participants the opportunity to try various ICTs, e.g. geographic information systems (GIS), to show them that these technologies are indeed relevant and can be easy to use. Faculty from several water-, ICT-, and environmental-related organizations were represented during the workshop, including Irina Makarenko of the Black Sea Commission (Turkey), Vadim Sokolov of the Scientific Information Center ICWC (Uzbekistan), Kirstin Miller of Ecocity Builders (USA), and Ed Parsons of Google (UK), among others.
Workshop Directors
Viktor Lagutov, Central European University, Hungary
Mahesh Pradhan, United Nations Environmental Program, Nairobi, Kenya
Workshop Faculty 

Lorant Czaran, United Nations Office for Outer Space Affairs, Austria
Zsuzsanna Gabor, Academic Cooperation and Research Support Office, Central European University, Hungary
Irina Makarenko, Commission on the Protection of the Black Sea Against Pollution, Turkey
Kirstin Miller, Ecocity Builders' Speakers Bureau, Oakland, California, USA
Arnold Nagy, Environmental Systems Laboratory, Central European University, Budapest, Hungary
Ed Parsons, Google, London, UK
Vadim Sokolov, Global Water Partnership, Central Asia and Causasus, Tashkent, Uzbekistan
Additional Information
See the countries and organizations participants represented, the course program, and photos taken at the event!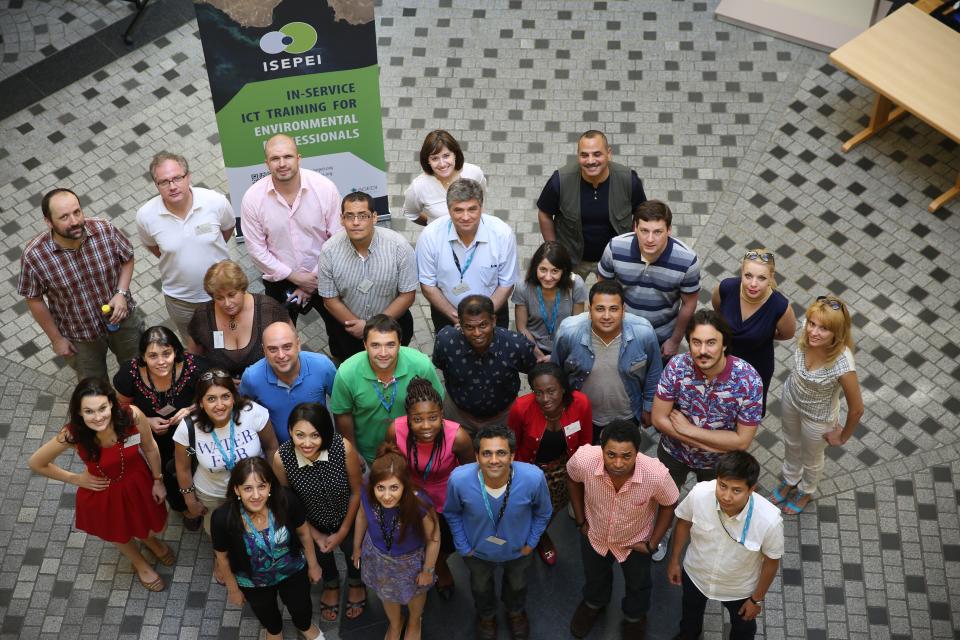 ISEPEI ICTs for Water Security Group Photo (photo credit: CEU Communications Office)